Aces of the Luftwaffe
1.3.10
Enjoy High-Octane Airplane Fighting
Is flying fighter jets and warplanes a dream of yours? Do you want to feel the thrill of fighting enemy airplanes? If yes, then this airplane fighting game has got you covered on all fronts. Aces of Luftwaffe is an exciting game in which you get to blow the enemies airplanes out of the sky by shooting them down with your warplane. It places you in the height of the Battle of Britain. Your job in this game is to fight the warplanes being sent by the enemy. You will have a warplane and pilot that you can control. The fighting is relentless, though. You can't take your finger off the trigger or your plane would get downed pretty quickly.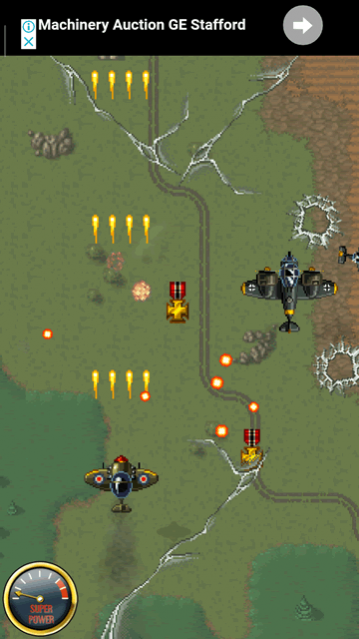 Aces of Luftwaffe has fast-paced gameplay which is aided by beautiful graphics. The controls of this airplane fighting game are not that difficult to understand and master. You just have to hold down your finger on the screen to fire your plane's guns. Do keep in mind that simply firing at the enemy airplanes isn't enough. You will have to dodge the enemy fire too. This will require you to move around your plane. You can do this by swiping your finger on the screen without taking it off. Just make sure that while dodging the bullets, you don't collide with the enemy airplanes. This can seriously damage your warplane. You can note the damage sustained by the chips that appear on the screen.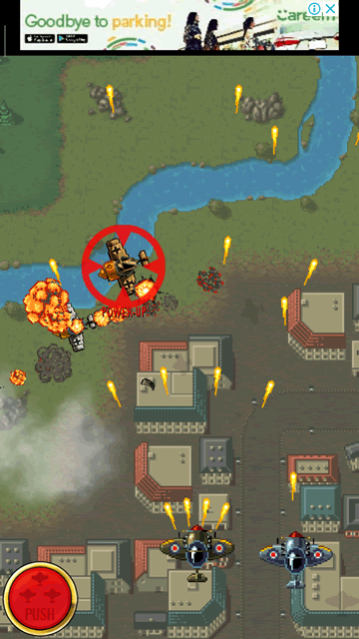 You get to play multiple chapters in this airplane fighting game. Each chapter brings a new challenge and a whole host of missions to you. The length and difficulty of the missions increase as you complete them. You will find the enemy airplanes becoming more agile and harder to hit as the missions become tougher. However, there is ample ammunition available for you to fight and destroy them. For instance, you can upgrade your airplane to make it faster. You will need to spend medals in order to do this, though. These medals can be earned by collecting them during the missions. You can unlock new chapters by spending these medals too. Aside from airplane upgrades, you have a super power button provided to you too which can destroy multiple enemy planes in one sweep.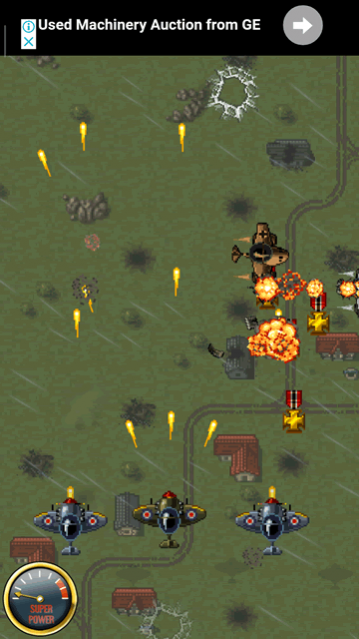 Aces of Luftwaffe lets you choose from three different pilots. At the start of this airplane fighting game, you can only choose the freshman. The other two pilots become available to play with when you have enough medals to unlock them. During missions, you will find several supply kits appear on the screen when you take out an important enemy plane. Some of these kits can help you fix the damage sustained by your warplane while others can help you in enlisting the help of two other smaller planes. So, keep looking for them during the missions and collect them quickly when they appear on the screen. They can be the difference between completing the mission and being downed.
Features:
Multiple chapters to choose from
Lots of different missions to complete
Three different pilots on offer
Option to upgrade your warplane's abilities
Dodge enemy fire and shoot the enemy planes down
Continually fire at the enemy planes until the end
Collect medals that show up during the missions
Avail the help of other planes to take out the enemy
Super power for destroying multiple enemy planes at once
Service kits for fixing your plane during missions
Conclusion:
Aces of Luftwaffe is a gaming app which is designed for people who have an interest in becoming a fighter pilot. It provides them the opportunity to take the reins of a warplane and unleash hell on the enemy airplanes that are trying to shoot them down. It is a fun airplane fighting game and you will have loads of fun in trying to outmaneuver the enemy planes.
---
Add a review
Tell us your experience with
Aces of the Luftwaffe
1.3.10
RELATED PROGRAMS
Our Recommendations
---
---
---
---